Patterson Specialty Portable Restrooms
Portable Solutions for Any Need!
Whether you are hosting an event or about to break ground on a new construction project, you cannot in good conscience proceed without knowing how your guests or employees are going to be able to relieve themselves. Rather than ruin your reputation for failing to provide something as obvious as portable restrooms, give Patterson Specialty Services a call for:
Restrooms for Weddings
Restrooms for Construction Sites
VIP Restrooms
Hand-wash Stations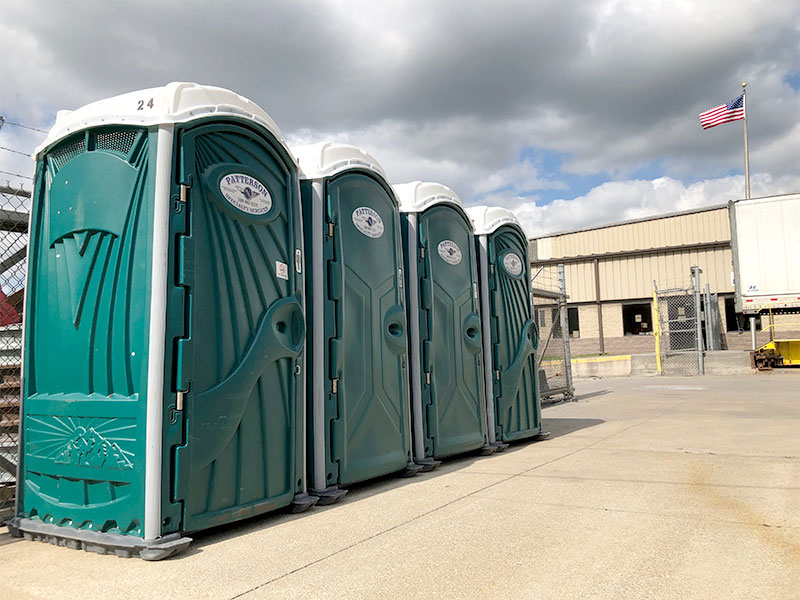 Helping You With Your Sanitation Needs Since 1998
When it comes to your portable restroom needs, we have a wide variety of products available. Just give us a call at (330) 862-3371 and tell us about your event, project, or reasons for our portable restrooms. Once we have a sense of what you need them for, we can proceed with figuring out the correct amount and what makes sense for your budget. Our customers know to trust Patterson Specialty Services whenever they need to provide their guests and employees with quality, portable facilities. Our work ethic and commitment to customer service has become well-known across the area and we are thrilled to be able to show you that our reputation for going above and beyond isn't just hearsay.
Portable Restrooms for Weddings
Do you plan weddings professionally or are you having one in the near future? If it happens to be outdoors, then you are going to need to think about what your guests will do once the open bar at the reception has begun. There are a lot of moving pieces in any wedding ceremony, regardless of the size of your guest list, so take one thing off your plate and give us a call today. We can provide your guests with first class amenities that are guaranteed to provide comfort to all those in attendance.
Portable Restrooms for Construction Sites
Are you the owner, project or site manager of a construction site? When you and your employees are on the construction site of your latest project, you can't stop for long breaks. You have timelines to respect! To minimize the amount of down time and make sure that you are on time, there needs to be a sufficient amount of portable restrooms around so that you or someone else doesn't have to drop everything they are doing and head off-site in order to relieve themselves.

With a number of different sizes and configurations to choose from, Patterson Specialty Services has been equipping all scales of construction sites with the facilities they need to keep their crews happy. Just let us know the size of the crew you'll be working with on your upcoming project and we'll point you in the right direction from there.
For Portable Restrooms at the Most Affordable Rates, Call: